Free or inexpensive video conferencing resources and services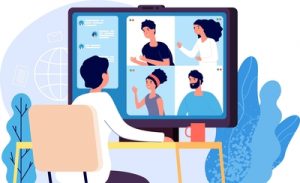 We offer this list as a service to our readers. Inclusion here does not imply endorsement.
Craig Freshley offers a handy introduction to how to use ZOOM on his website here.
Several free conference calling services are also available, such as freeconference.com.
Avaya Spaces
(Up to 50 participants free)
https://www.avaya.com/en/products/cloud/small-business-solutions/spaces-pricing/
Google Hangouts Meet 
(Gsuite basic is 6$ a month for the host, up to 100 participants, but some services will be free until July 2020)
https://gsuite.google.com/pricing.html
Microsoft Teams
(free for 6 months)
https://www.microsoft.com/en-us/microsoft-365/business/compare-more-office-365-for-business-plans
Skype 
(free for up to 50 participants)
https://www.skype.com/en/features/calling-and-instant-messaging/#calls
Zoom
(Free for up to 100 participants, 40 minutes time limit)
Below is a more extensive guide expressly for dealing with the need for remote meetings in response to the current situation. It covers several other services that offer free, inexpensive monthly costs, or free trials:
https://www.uctoday.com/collaboration/video-conferencing/covid-19-ultimate-guide-to-free-video-conferencing-collaboration/