"The Intern" and my love story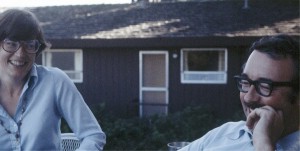 My oldest son took me to see the movie "The Intern" and I loved every bit of it. Afterwards, I realized that the arc of the story line followed my own love story. In my twenties, I was a "bright young thing" enjoying a great career with the State Department. Everything looked great on the outside. Inside, though, I was all over the map. I'll spare you, dear reader, the boring details, but emotionally I was as "out of it" as the Anne Hathaway character.
The Foreign Service had assigned me to Moscow when I had the great good fortune to fall in love with Lew Macfarlane, my late husband. Lew was ten years older than I and embodied the best qualities that we saw in the Robert DeNiro character (as well as a few more, of course!). His steady attention to what really needed to be done, his quiet caring for other people, his creative solutions and his ability to act decisively were all mirrored in the movie.
A good leader, in my view, embodies those qualities. A good leader supports followers to persevere in the face of difficulties. A good leader identifies the real problems and speaks the truth about them in a way that encourages others to tackle them. A good leader "doesn't sweat the small stuff," and knows that much of life consists of small stuff. And a good leader always sees the human side of others, and enables followers to become better human beings despite their quirks, failings and errors.
Lew used to tell me, "Jurassic Parliament is not about dinosaurs." As we move forward developing new curriculum and materials to share with you, I realize that it's about more than Robert's Rules. I learned so much from Lew, and I miss him so much. But I am filled with gratitude at having been married to him for 33 happy years. And I am so grateful, through my partnership with Andrew Estep in Jurassic Parliament, to be able to share what I learned about leadership and life in that marriage with you.
Ann G. Macfarlane
Professional Registered Parliamentarian