Which Robert's Rules should I buy?
When I first became interested in Robert's Rules of Order and parliamentary procedure, I toddled off to the bookstore to get myself the book. A thin volume with a purple and green art nouveau cover, proffering Robert's Rules for the current century, looked like a good bet. I handed over my money and bought it. Unfortunately my keenly honed book-buying instincts had failed me. There are many different Roberts out there and some of them will be a waste of your money.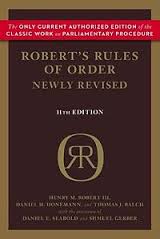 There is one authentic Robert that you should buy if you have a practical interest in or need of Robert's Rules for running your organization. This book is entitled Robert's Rules of Order Newly Revised, 11th edition. In the words emblazoned on its cover, it is "the only current authorized edition of the classic work on parliamentary procedure." It is published by Da Capo Press, a member of the Perseus Books Group. The paperback version costs $18.95, with ISBN 978-0-306-82020-9.
You can buy this version from the publisher, from bookstores (reference section), from booksellers such as Amazon.com, or from the parliamentary associations, the National Association of Parliamentarians or the American Institute of Parliamentarians. You need it because it is the current version. This version varies in several significant respects from the earlier versions, which are now out of date. In case of a challenging situation or a complicated question, it is important to have the very latest and most authoritative text ready to hand. Many bylaws recognize this by saying that meetings shall be governed by "Robert's Rules of Order, latest edition."
We at Jurassic Parliament have found that this long and complicated book presents a real challenge to readers. We regret that Robert's Rules, which started off as a modest pocket handbook 176 pages long, has now ballooned into a massive tome of more than 800 pages. Nevertheless, we believe that the core or kernel of Robert's Rules is vital for fair discussion and efficient meetings. Our materials and training courses provide that core in an easy-to-digest and enjoyable manner.
There is also a useful small volume available, Robert's Rules of Order Newly Revised In Brief, 2nd edition, ISBN 978-0-306-82019-9, for $7.50. This text provides in its 200 pages a handy and readable summary of key points from the larger book. However, it may not be adopted as an authority for meetings; it is only a sign-post to the official text.
Other versions are available because some earlier editions of Robert have gone out of copyright. It seems that authors may take an earlier edition, modify it as they think best, and then release it to an unwary world. Some of the versions I have seen have good suggestions in them, but in general it's both easiest and best to go with the official version. It's also important to note that Robert is not  the only authority. Your organization may choose a different guide, such as American Institute of Parliamentarians Standard Code of Parliamentary Procedure or Mason's Manual for legislative bodies.