Limited budget? Spend $8.99 on BEST short introduction to Robert's Rules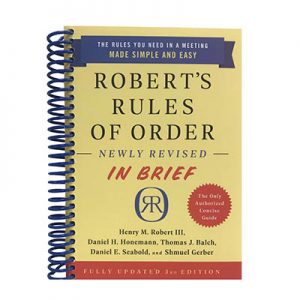 When confronted with the book, Robert's Rules of Order Newly Revised, 12th edition, readers sometimes falter in their enthusiasm. The bulk and heft of this book are daunting to anyone—they certainly were to me when I was getting started in the study of parliamentary procedure. If you hesitate to plunge into the official book, start off by purchasing Robert's Rules of Order Newly Revised In Brief, 3rd edition.
This little volume is a treasure. The authors have done a splendid job of distilling the key information that a reader needs in order to make sense of parliamentary procedure. Here are the contents:
Part I: Why Have Rules?
A fine summary of why we need rules
Part II: So You're Going to a Meeting
Details on meeting process, handling motions and amendments, referring matters to a committee and how a group can change its mind
Part III: Voting and Elections
A good explanation of these key items
Part IV: Bylaws and Other Rules and How to Use Them
List of the basic types of rules and how rules are enforced and suspended
Part V: Beyond the Basics
Using the official book, frequently asked questions, and a summary of motions
Part VI: So You've Been Elected (or Appointed)
In addition, the book provides a set of 5 helpful tables giving key language guidelines for you as chair or member, and a full index.
This short introduction is not a parliamentary authority
Robert's Rules of Order Newly Revised In Brief is not a parliamentary authority—the book of rules the group names to govern its meeting procedure. The authors make it very clear that this book is a signpost to the official book. If a group adopts this book as their parliamentary authority, it actually adopts the current edition of Robert's Rules of Order Newly Revised. Once you are more familiar, you will likely want to purchase the 12th edition, which goes into much more detail. It is in fact more of a reference manual, whereas In Brief will start you on the path of parliamentary learning with ease.
Where can you get the spiral-bound editions?
If your budget allows, spend $12 for the spiral-bound version, available only from the National Association of Parliamentarians here. I was surprised at how much easier it was to use this book, which lies flat on the table, as opposed to the regular paperback. You can also purchase a spiral-bound Robert's Rules of Order Newly Revised 12th edition from NAP here.
Another short introduction to Robert's Rules
Finally, I have to put in a plug for Jurassic Parliament's book, Mastering Council Meetings. This guidebook was written for elected officials and local governments, but 85% of its contents applies to nonprofit organizations as well. In our book, we provide a user-friendly approach to Robert's Rules and parliamentary procedure. The book includes diagrams of motions, an extensive glossary, and explanations of points that are puzzling to those new to this system. Here's an example of one of our diagrams. You can learn more about our book and download a free sample chapter on this page. The two books complement each other. They will orient you towards the official, full book, Robert's Rules of Order Newly Revised, 12th edition.