Mastering Council Meetings: A guidebook for elected officials and local governments
What can you say when one council member calls another a jerk?
How can you stop a board member who rambles on too long about the good old days?
What if the president accuses a member of never being satisfied with board decisions?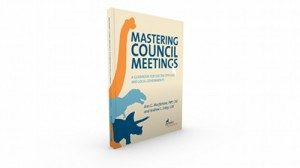 Robert's Rules of Order makes it clear that these remarks are inappropriate. But how can you respond effectively on the spot? Our book will give you powerful language to use. It clarifies your role, as president, mayor, or chair, in challenging situations. It provides you as a member with language you can apply immediately to get the results you want.
The book is unique. It provides elected officials and everyone involved in local government with a practical and user-friendly approach to Robert's Rules of Order in action. We have created it with lots of white space for your notes, tips and key learning. It receives rave reviews from users who need a guidebook they can use on the spot during their meetings, or want to prepare for the unexpected.
Features:
Clear explanation of the paradox of chairing a meeting
Easy-to-read explanations and diagrams of the most important motions
Key points on giving notice, agendas, and processing minutes
Essential principles of discussion
Special rules for small boards (up to about 12 people)
Guidelines for running public comment sessions
Specific language to use when facing disorder, rudeness etc.
Chart of motions showing their relationship
26 most important discussion rules, collected from Robert's Rules of Order
Detailed 19-page glossary
Extensive index including practical topics omitted from many books on Robert's Rules of Order
We are at work on the second volume in our series, Mastering Nonprofit Board Meetings. If you serve on a nonprofit board, this book will provide you in the meantime with most of what you need to know about Robert's Rules of Order.
Read our testimonials and get your own copy today!