Danger Will Robinson! Public comment ahead!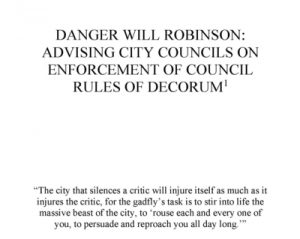 This post offers our readers a brilliant paper by municipal attorney Brett Vinson on the dangers of public comment. Anyone involved in receiving comment from the public during meetings will find it interesting and valuable. Read about the Nazi salute in Santa Cruz, singing a Whitney Houston song to express love for a councilmember, and an activist calling the mayor a "[profanity] racist pig."
As always, we caution that this information is provided for educational purposes only. Nothing in this material constitutes legal advice. When considering public comment issues, review your state law and consult your attorney.
Dangers of public comment – Conclusion
It is clear that council rules can regulate public comment.  However, council rules that are overbroad, that include the prohibition of the use of profanity, or prohibit personal attacks without the qualification of actually disrupting the meeting will likely be held unconstitutional.  Additionally, when enforcing the rules of decorum, an actual disruption of the business of the council is necessary prior to removing the speaker.  Brett Vinson
Here are additional resources on the dangers of public comment:
50 Guidelines for Public Comment
Don't get into back-and-forth exchanges during public comment
Don't include detailed public comment in meeting minutes
The First Amendment is not the last word
Balancing the Council's Right to Manage Meetings with Expectations of Citizens – P. Stephen DiJulio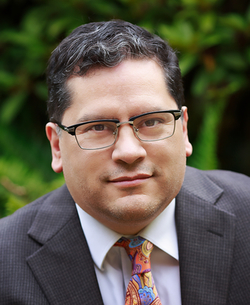 P.S. "Danger Will Robinson" is the famous warning of the robot in Lost in Space. Jurassic Parliament expresses its gratitude to Brett Vinson for permission to share this resource with our readers.