50 Guidelines for Public Comment in Local Government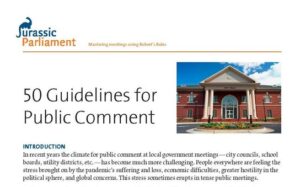 Updated September 20, 2023
The public comment period is an essential part of local government meetings. This new publication offers 50 guidelines for public comment, and includes a sample public comment announcement. It is an update from our 2018 guidelines.
These guidelines refer to ordinary business and work or study meetings of councils, boards and committees. Public hearings and quasi-judicial hearings are governed by different rules.
It is important for elected officials and for the public to be very clear about the purpose of the public comment period. This is an opportunity for members of the public to inform the governing body about their views. The meeting itself belongs to the governing body. The public does not PARTICIPATE in the decision-making. Instead, it PROVIDES INPUT to the governing body, which takes the input into consideration in making its decisions.
A governmental body must craft its requirements with care in order to to preserve the free speech rights of its citizens. If questions arise about the public comment period, consult your attorney. State law and regulations and your specific bylaws or rules of procedure have higher standing than Robert's Rules of Order, other parliamentary authorities, or these guidelines.