What are special rules of order in Robert's Rules?
Updated July 14, 2021
Special rules of order are permanent rules, specific to your group, that guide your discussions and meetings. They allow you to make sure that your group talks about things and makes decisions in the way that works best for you.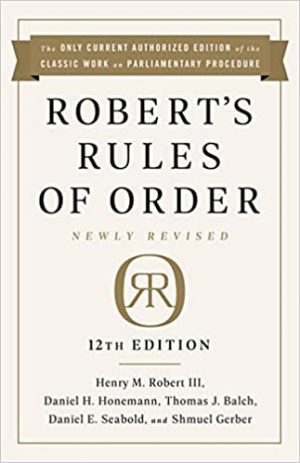 Robert's Rules of Order encourages groups to set up their own special rules of order as needed. Your parliamentary authority, Robert's Rules of Order Newly Revised, latest edition, becomes the foundation. You then build a house in which to live by choosing your own bylaws and special rules of order. This flexibility is very helpful!
Example of a special rule of order
An example of a special rule of order would be a rule setting a time limit for speeches. Robert's Rules says that each member may speak twice for up to 10 minutes at a time on each subject, per day. That is too long for most groups, so your board might decide that "five minutes" is the limit. The rule would read:
The maximum time for a speech by a board member is 5 minutes.
If you'd like to know more on time limits, read our article Time limits create productive meetings.
How to adopt special rules of order?
The size of the group makes a difference in how to adopt special rules of order.
For a body with a large membership, give advance notice of the proposed rules and then take a vote. If two-thirds of those voting are in favor, they are adopted.
For a smaller body like a board of directors, all that is necessary is that a majority of the entire membership of the board vote in favor. No advance notice is needed, though circulating the proposals ahead of time is likely to increase buy-in from the members.
---
Robert's Rules of Order Newly Revised 12th edition was published in September 2020. Jurassic Parliament materials published prior to that time refer to the 11th edition. In substance the two editions are the same. There are minor differences, textual changes, and a change in reference method. The new edition gives references by section number, not by pages.