Citizen's Guide to Effective Public Meetings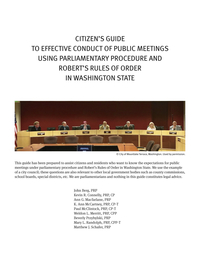 Your Citizen's Guide to Effective Public Meetings is now available for interested citizens and residents. If you want to know the expectations for public meetings under parliamentary procedure and Robert's Rules of Order, explained clearly and elegantly, download this Citizen's Guide today!
Eight fellow professional parliamentarians and I have written this Citizen's Guide. It describes procedure in Washington State, and will be of value to anyone interested in how public meetings should be run. We wrote the Citizen's Guide in ordinary English, and have given translations of technical terms. It is user-friendly, easy to understand, and clear.
Citizen's Guide Authors
It was an honor and a pleasure to work with these distinguished colleagues, fellow members of the Washington State Association of Parliamentarians (WSAP) and the National Association of Parliamentarians (NAP). They are remarkable for their expertise, experience, and willingness to share their knowledge freely with others.
John Berg, PRP
Kevin R. Connelly, PRP, CP
Ann G. Macfarlane, PRP
K. Ann McCartney, PRP, CP-T
Paul McClintock, PRP, CP-T
Weldon L. Merritt, PRP, CPP
Beverly Przyblyski, PRP
Mary L. Randolph, PRP, CPP-T
Matthew J. Schafer, PRP
We are particularly fortunate to have among our authors Mary Randolph, Immediate Past President of NAP, Kevin Connelly, current NAP Secretary, and John Berg, current President of WSAP. Other members of our team have also served at the national, regional and local level in NAP and the American Institute of Parliamentarians (AIP).
More than that, everyone on the team welcomes new members. I remember with great fondness my first NAP meeting in Vancouver, Canada in 2002, when Paul McClintock took me under his wing and made sure I felt at home in a sea of new faces.
Use Citizen's Guide as springboard to better meetings
Readers are warmly invited to join a local NAP unit or state association, and a chapter of AIP. Both organizations offer fellowship, intellectual interest, and highly useful tools for anyone committed to civility and good meeting process in the service of our democracy.
Order is the first requirement for good meetings, and rules will establish order as long as everyone knows them and follows them. Learn more about the rules and run better meetings—you'll be glad you did!