Starting a nonprofit? Here's a helpful workbook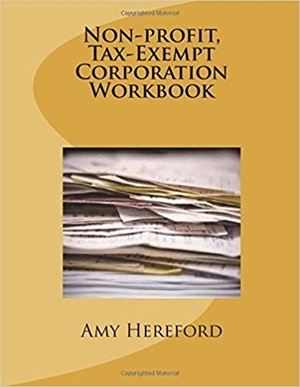 Are you planning to start your own nonprofit organization? The process is complex. Amy Hereford has published the Non-Profit, Tax-Exempt Corporation Workbook. This excellent little book makes the process clear and show you the best way to go about starting a nonprofit.
It's an up-to-date listing of the many steps you must follow, including:
Organization goals, mission and budget
Recruit board members, locate resources and develop time-line
Establish corporation
Federal tax filings
Establish financial management
State obligations
Other steps and obligations
Annual checklist
A cautionary note about starting a nonprofit
You will need bylaws to run your nonprofit. One cautionary note: This workbook provides sample bylaws that include a provision Jurassic Parliament does not recommend. The sample says, "The Board may meet through electronic means in any manner approved by all Directors that is free and fair."
In most states, nonprofit boards may meet either in person, or by telephone, provided that all members can hear and be heard. Meetings by email are not allowed. Read our blog post here, "You can't vote by email," to learn more.
The sole exception is "unanimous written consent." In order to use "unanimous written consent," every single member of the board must vote in favor in writing, and a written record of their signed consent must be entered into the minutes. In our experience, some boards play fast and loose with this. Please be sure that language in your bylaws about meetings does not give rise to the possibility of meeting in a manner not sanctioned by your state law.
Thank you, Amy Hereford, for producing a useful tool to help visionary people starting a nonprofit improve the world. You can purchase Ms. Hereford's book at Amazon and read more about her work at www.ahereford.org.
Additional help for starting a nonprofit in Washington State
Washington residents can find additional great information about starting a nonprofit by clicking on this link published by WAYFIND: Attorneys Supporting Communities.