What You Need to Know for Your First Board Meeting Including what to say and when to say it
Webinar: Newly Elected? Robert's Rules Survival Guide
Friday, January 17, 2020
10:30 - 11:30 am Pacific Time (60 minutes)
$37
Now that the election is over, are you ready for the meetings to begin?
New board members—and even current board members—can be overwhelmed with the rules that meetings follow, including special dialogue, procedures, and how to handle public conflict.
For example, do you know:
When you're allowed to speak in a meeting, and in what order?
The difference between "discussion" and "conversation" in meetings?
When two-thirds votes are required instead of the usual majority vote?
When you should second a motion even if you disagree with it?
In "Robert's Rules Survival Guide," Ann G. Macfarlane, Professional Registered Parliamentarian, will use a fictional meeting to guide you through what goes on in meetings.
Ann will provide step-by-step instructions for how meetings are conducted. You'll learn the proper order of a meeting, what to say and when to say it—including sample dialogue you can use—and what actions are and are not acceptable. (Even long-time board members will learn new things.)
Ann will also provide suggestions for modifications to Robert's Rules that help meetings run quickly and smoothly—including a quick fix to take better advantage of people's time and energy.
Join the webinar on Friday, January 17 at 10:30 am Pacific time. Space is limited.
Ann is a lively instructor and the time will fly by! You will gain confidence and understanding of your role, and enjoy the process.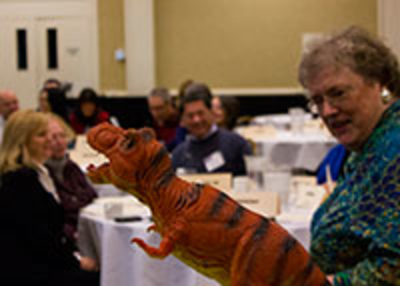 Why you should attend this webinar
Benefit 1
The meeting steps that are often neglected but that are important for effective meetings that everyone is happy with
Benefit 2
How to perfect a motion—and why the order of discussing and voting on motions can be confusing
Benefit 3
The rules for voting, including special requirements for changing your vote
Benefit 4
Specific examples of problematic things people might say in a meeting—and example statements following Robert's Rules of Order to get the meeting back on track
Outline of topics covered
The organization of the meeting
Main motion basics
Fair and efficient discussion
Amendment
Voting and abstaining
Don't put up with bad behavior
Your rights, responsibilities and authority in a meeting

Love your site!  I refer folks often when doing local government training in PA.  We are constantly seeking new ways to inspire those in positions of leadership. Civility seems to be on the decline. Thanks for this webinar. Judy Chambers, Penn State Extension.

Very helpful and useful information. Anyone who is well informed and skilled in Robert's Rules will have additional tools to apply and will make any group stronger and more effective. Dan Poiree, City of Burien

Ann Macfarlane is absolutely amazing! Her lessons are concise and informative. If you're looking for the basics you must take her webinar!

It's always great to see Ann, (even when it's on the computer!) and I learn something new every time I hear her speak.

I was quite amazed how interesting the topic of procedural rules can be! You really know how to present the answers in a smooth, easily understood way, and with humor sprinkled into it, too!

Excellent webinar. Ann has an amazing depth of knowledge and answered all of the questions deftly and provided good solutions and examples. Highly recommended. David Rumsey. former president, American Translators Association
After attending this webinar, you'll feel confident and prepared for your first meeting. Join us on Friday, January 17 at 10:30 am Pacific time. 40 spaces available.
BONUS After the webinar, you will receive access to a recording of the webinar and the PowerPoint slides for your personal use. By registering for the webinar you agree to be recorded.
REFUND POLICY Refunds will be given, less an administrative fee, up until one week prior to the webinar. After that time no refunds are available, but the valuable materials will be provided.