Get our book
Our book, Mastering Council Meetings: A guidebook for elected officials and local governments, is available from Amazon. Cost $24.95.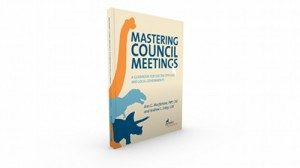 Personal coaching
We offer coaching in person, by telephone or by video.
Book a coaching session with Ann
Take our webinars
Review available webinars and register. You will receive the link to enroll and full webinar details once your payment is processed.
See available webinars and purchase
Take our course
Register for our distance learning course, "Making Sense of Motions," through PayPal. You will receive a receipt from PayPal, and then a link via email to begin the course within one business day of your enrollment. Registration is valid for 30 days. Cost $39.00.
Ask about in-person training
Contact us for fees and options for in-person training for your board or council.
Thank you for your interest in Jurassic Parliament!