Ann Macfarlane is our Jurassic Parliament trainer. Her workshops are live-action role plays, interactive from start to finish. Based on adult learning principles, the sessions give everyone a chance to encounter the same situations that can prove baffling in real life.
Read a newspaper report about a workshop for the Kent City Council here and get a feel for how it all works!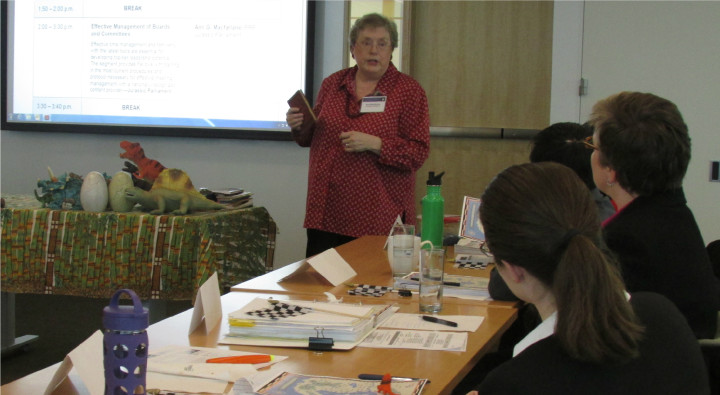 You will discuss the learning outcomes you desire with Ann. She will then prepare a customized scenario teaching the specific objectives you need for your organization. Participants will learn how to deal with motions, amendments, voting, obnoxious remarks, rambling speakers or confused members...whatever topics you choose.
Our workshops are based on Robert's Rules of Order and also incorporate important insights into how group function works. They go far beyond procedure, providing guidance for wise leadership and impactful meetings. Participants leave feeling empowered and ready to apply their new knowledge to their group's collective endeavor.
The whole experience flies by. One participant wrote, "When we sat down we wondered if we could keep awake, but we ended up staying late to talk about what we had learned and how to apply it to our meetings."
Three hours is an excellent length for one of these workshops. Ann can also speak for an hour or a day, depending on what you want to cover. The entire session is guaranteed to be lively, thought-provoking and enjoyable. 
Contact us to discuss your needs and schedule a Jurassic Parliament workshop for your next conference, retreat, or training day.
___________________
"Your style of teaching was the most stimulating and non-threatening I can recall." Participant, Coupeville WA training for Council of Governments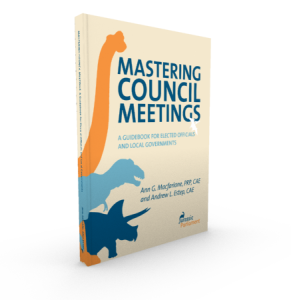 Mastering Council Meetings:
A guidebook for elected officials and local governments