New! Live webinars now available
Jurassic Parliament is pleased to offer lively and entertaining training through your computer. Spend an hour with Ann Macfarlane and master key elements of Robert's Rules to strengthen and improve your meeting skills.
Our distance learning course: Making Sense of Motions
This course is an interactive PowerPoint with narration, videos, and final exam.
You take it on your computer at your convenience. Total time 1-2 hours.
Have you heard someone at a board meeting say, "I move that…" and someone else shout out "second"? Then you've met Robert's Rules of Order in action. Many of us have had this experience, but never get beyond it to understand how the system of "motions" works.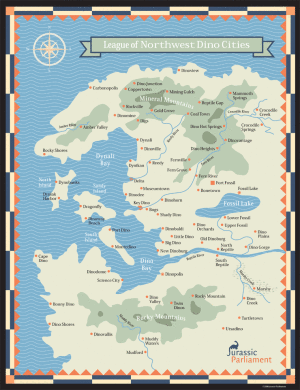 Our distance learning course, "Making Sense of Motions," lays the system out in a simple and friendly way. You will meet motions, amendments, refer to committee, point of order and point of information as dinosaurs. You will watch them as they are made, seconded, and voted on.
Lively videos and diagrams make it clear. You'll understand the basic principle of this system and how the motions in Robert's Rules of Order actually work. You'll know when and how to make the most frequently-used motions to achieve your goals.
The course takes only an hour or two to complete. You can take it during your lunch hours from your own computer, or in the evening at home, at the speed you like. Your registration is good for 30 days.
The course also includes an optional final examination. We'll be glad to provide a certificate of continuing education in Robert's Rules of Order once you complete it.
Clear up confusion about Robert's Rules of Order and master this important topic. We offer a money-back guarantee, so sign up today and invest in your own mastery of meeting procedure!
Cost of course: $39
If you have already registered for this course you can log in here.
____________
"You asked for feedback, which I am happy to give. I found the course to be an easy way for me to learn. I liked the knowledge quizzes and test at the end. I feel that after this course, I have a much better understanding of motions, and I look forward to similar training opportunities with Jurassic Parliament. The bottom line is that I found this course very effective and fun to do. I would highly recommend it to others." Connie Cobb, City of Olympia